Things to do in Nuremberg
As hard is to choose the best chocolate from the large box of different chocolates, that and much harder is to choose what to see first in the second largest town in the whole of Germany.
Here are some basic things about Nuremberg. As said, it is the second-largest town in Germany. Its German name is Nürnberg but the locals call it Närmberch.
Things to do in Nuremberg & What to see in Nuremberg?
What to see in Nuremberg? This city lays over two rivers one of them is Pegnitz River and the other is which flows into the River Main. Even though it is the second-largest city in Germany, it is certainly the largest city in Franconia. This city not only has a great education system like the Univesity of Erlangen-Nuremberg, which includes a university teaching hospital and many others. 2006 FIFA World Cup was held here as well.
This city is famous for many things, but the Christmas Celebration and its main market are its trademarks. If anyone wants to spend Christmas in the best way possible, Nuremberg is the town to spend a few days to remember for the rest of their lives.
The Imperial Castle of Nuremberg is one of the main landmarks if the city of Nuremberg. Made in the Middle Ages, this beautiful castle represents the power of the Holy Roman Empire in its full glory. The first documents of the Imperial Castle were written in 1050. It was the place where people gathered and made tradings, and inside many of the rulers of the city and the Imperial Diets held trials there. On the northern side of Nuremberg's Altstadt, everyone can see the full glory of the Holy Roman Empire.
It is a great place to start your tour of this city.
Note: The Imperial Castle of Nuremberg has no parking places, so don't try to get there by car.
Location: Burgverwaltung Nürnberg Auf der Burg 17 D-90403, Nürnberg
Phone number: +49 911 244659-0
E-mail: [email protected]
Open Hours: April to 4 October: daily 9 am-6 pm and from 5 October to March: daily 10 am-4 pm
Albrecht Dürer's House

The most important artistic thing to see is this place. Albert Durer's house was renovated several times because it was damaged several times, and everything in it is as it was during his life. He was one of the greatest painters in Nuremberg, and everyone wanted him to paint for them, and most of them were the wealthiest and most important citizens of Nuremberg from those times.
He lived from 1471 to 1528. He became famous and started living in this house in 1509, in the 16th century.
Besides, this is the only house in Europe where the artist lived and worked hard, so in every corner of the house, there are traces of his life.
If you came here looking for art, this is the first place you should visit, because it still looks like it is the 16th century.
Location: Albrecht-Dürer-Strasse 39, 90403 Nuremberg
Phone number: +49 (0) 911 231 – 25 68
Open Hours: Due to Covid-19, the museum is closed until November the 1st, but Covid-19 is still here so you can view the house online.
Germanisches Nationalmuseum

This museum was made in 1854. It is one of the largest museums in this part of the world. It is the German National Museum and it held collections from prehistoric times to this day. Germanisches National Museum is the largest museum of the cultural history of Germany. In this museum, you can find more than 1,3 million peace of culture and art from the first written word that reflects this part of the world.
This museum is one of the rare ones that have 25 thousand exhibitions on-site every time of the year. Among them, there are rarities like rare drawings and written documents and the Department library. In 1846, people like Leopold von Ranke, Carl Jacob Christoph Burckhardt, and the most famous of them, Grimm Brothers formed a literary impact and all of the writers after them are exposed to this museum.
Location: Kartäusergasse 1, 90402 Nürnberg, Germany
Phone number: +49 911 13310
Open Hours: Tuesday to Saturday from 10:00 A.M. to 06:00 P.M., Thursday from 10:00 A.M. to 08:30 P.M., Monday and Sunday are closed;
Nuremberg Toy Museum
This museum was previously called the Lydia Bayer Museum. It was made in 1971 and a rare thing to see anywhere in the World. There you can see toys that are saved from a long time ago, as well as the toys that were made recently. The building where the museum is set dates back to 1517. Back then the house belonged to Wilhelm Haller. During the time, the house became fragile and was bought from Nuremberg and took it in his wing in 1966. It was renovated in 1971 with big support of the family named Hallersches, and after that renovation, the house got the Hallersches Haus name.
The exhibit of all kinds of toys has a place that is 1.200m and certainly is the most exciting thing for the kids. This collection holds 87.000 objects worth seeing. Some of the toys that are used from the middle ages to this day. If you want to spend quality time with your kids, this is the right place for spending a great day.
Location: Karlstraße 13-15, 90403 Nürnberg, Germany
Phone number: +49 911 2313164
Open Hours: Closed during Corona Virus

Nürnberger Bratwurst
When you get tired of walking because on almost every corner you can find something worth seeing you can stop and take a breath and a great bite to eat. Nuremberg Bratwurst is their trademark and a great meal containing sausage and side dishes like potato or some other vegetables. Their sausages are white in color until you put it on the grill, and you get one of the best specialties from Nuremberg.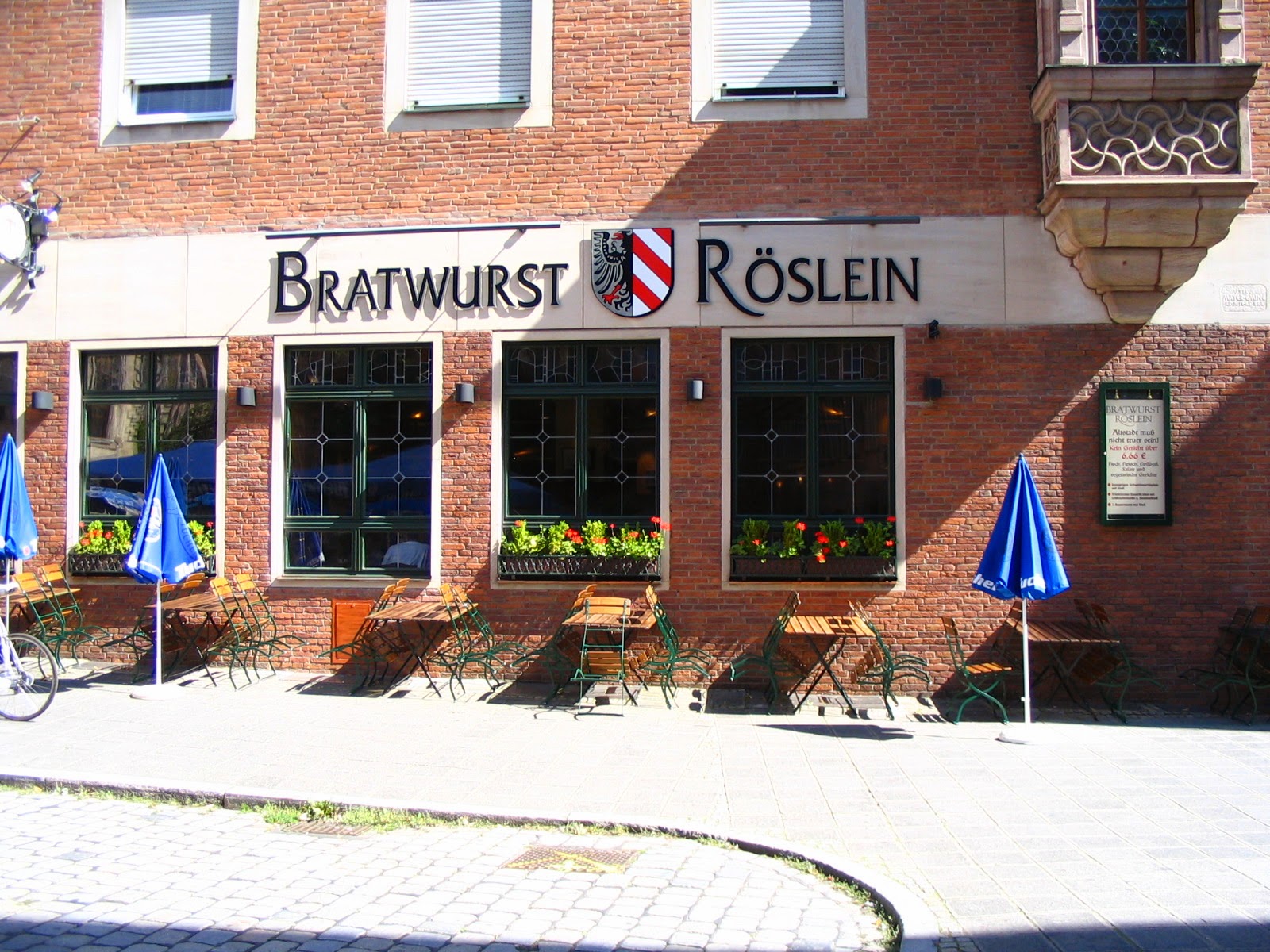 It is made of veal, beef, but most commonly from pork. It was written that the first Bratwurst was made in 226 B.C. and the second written trails were in 1313 and it was in Nuremberg. From then on, their sausage or Bratwurst is one of the most popular meals you can have in Nuremberg.

Location: Every restaurant in Nuremberg, Germany
Phone number: +49 911 214860, +49 911 227625, +49 911 227695, etc…
Open Hours: Most of them work from 09:00 A.M to 11:00 P.M.
German National Railways Museum
The Railway Museum consists of two parts, one of them is Deutsche Bahn's DB Museum and the other is the Museum of Communications. This museum is the oldest museum of technical things in Europe. It is said that during Covid-19 all exhibitions are because there is a lot to see in this Nuremberg Railway Museum. All of them are canceled until further notice.
DB Museum is the oldest museum of this type in Europe, even in the world maybe. Founded in 1882 with a few branches that came later on in other cities. This museum is founded and represents railways in every aspect of it. With the working staff with the siles on their faces, all of them would be more than glad to be your host on this 'magic journey'
Location: Lessingstraße 6, 90443 Nürnberg, Germany
Phone number: +49 800 32687386
Open Hours: Closed because of Covid-19 to November 11th
Nuremberg Zoo
This is one of the most beautiful zoological ecosystems in Europe. Made in a steep hill on the rocks people made a great zoo for the animals in the first place than for the customers who will enjoy the time spent here.
Some trees are more than a century old in this zoo. Also, there is one larger lake and many smaller ones that were made for the animals that live here.

The Zoo is made further than the center of Nuremberg and settled on Nuremberg Reichswald southeast from the center of the city of Nuremberg. Here you can find almost every animal that you can think of. Among them are dolphins with their presentation, family of lions, rhinoceroses, elephants, Malayan tapirs, gorillas, sea lions and manatees, and many other animals that you can only wish for seeing in your life.
Location: Am Tiergarten 30, 90480 Nürnberg, Germany
Phone number: +49- (0) 911-5454-6
Open Hours: 09:00 A.M. to 05:00 P.M.
Nürnberger Felsengänge, Town Under Nuremberg
This is the underground labyrinth of tunnels, and it would be smart that if you are going there for the first time it is better to be guided by someone that knows the place or get one of the tours guided groups and see the underground of the Nuremberg. The main thing you should know that the underground is a cold place. Even during the summer, you should have something warm to wear because there are temperatures there don't go up then 8 to 10 degrees Celsius.
If you don't get warm, you shouldn't visit this place, but if you are planning to get to this place, wear something warmer.
Among the other things to see, there are barrels with beer, and you can have a cold beer, fresh from the barrels that are stored there.
Because of the rocky terrain, you should wear comfortable shoes, because if you try to walk through this place in heels your legs will suffer, and you may injure yourself. As everything in the world, it is opened, but you have to make your reservation for getting there because Covid-19 is still present, and tours must be smaller.
Location: Bergstraße 19, 90403 Nürnberg, Germany
Phone number: +49 911 221570
Open Hours: 11:00 A.M. to 05:00 P.M.

When coming to Nuremberg, by yourself, or with the tourist guides, odds are that you will see this beauty as the first thing that is important in this city. This fountain is on the main square in Nuremberg, and it dates back to 228 B.C. After those times, to implement Christianity in Europe, people from the Christian Church made this fountain one of the most important works of art in Europe. Until the 16th century, everyone could touch the fountain and by doing it, they will peel off the colors and the silver and gold that was used to paint the fountain.
Then comes the legend of the ring. The townspeople had concluded that in order to keep paint on the fountain, they will have to make a gate that will keep people away from touching figurines.
One of the people that made gates, who made the rings for the gate, had a daughter. She fell in love with a modest and poor boy, but her father forbids it. When he saw his daughter in pain and tears he promised that he will leave one ring on the gate loose, and if he finds the ring she could of mary him. He and his daughter left the town as soon as the gate was finished but the ring stayed.
Actually, this fountain has two rings, and most of the time people who come here make wishes for having children. As the story goes, if you turn the loose ring 3 times and make a wish the wish will come true. If you are visiting this beautiful city, be sure to look closely at the story of the fountain. You'll get there for sure if you get to visit Nuremberg.
Location: Hauptmarkt, 90403 Nürnberg, Germany
Open Hours: 24/7
The Nuremberg Christmas Market
Christkindlesmark is a German name for Christmas Market. It is held every year and it's opened with new Christkind every year. She is opening the festivities every year every Friday before Christmas night. If you want to spend a few days without stress, looking at the smiling people, great decorations, and a Christmas that you'll never forget, this is the place for you. Everything looks like in a fairytale, including the fairy that looks like an angel every year a new younger girl opens the Christmas Celebration in Nuremberg.
Every year 2 million people get to Nuremberg to see the great Christmas Marketplace. There are many stands where you can buy hand-made ornaments and get good food. Most of the stands have local products from Bratwurst ( German local sausages ) to the little snowballs with towns landmark. Little baked hearts with paint words written on it. There is a lot more than that but you have to be there to see the lights, the Christmas tree, everything is so festive and everyone has smiles on their faces, welcoming you to their celebration.
Nuremberg city is most popular in the wintertime because this celebration is one of the greatest in Europe. If you ever plan to have the greatest Christmas eve, Nuremberg is the city to go to.
Note: This year ( 2020 ) Christmas Market is canceled due to Covid-19
Location: Advent in the Hauptmarkt, the central square in Nuremberg's old town
Open Hours: Monday to Sunday 10:00 a.m. – 9:00 p.m. December 24th, 2021 10:00 A.M. – 2:00 P.M.
Iron Maiden of Nuremberg was one of the hardest torture devices that were made for those who got the hardest punishment. The first written trace of this torture chamber was in the 19th century in Nuremberg.
It was a chamber made of iron, made for one person, with spikes inside, so one person that was in there couldn't move or sleep, because you could be killed with the spikes of iron inside.

This is also, one of the landmarks of the city of Nuremberg. This is the place where the trials were held against the National Social Party that acted during World War II. From November 1945 to October 1946 most of the people that weren't killed during the war or fled from the country were judged here. Mostly for the documentation that will be left after the trials. It was judged to 199 people and only one of them was acquitted.
International court worked in room number 600 in the Nuremberg building of justice. In this Memorial Museum, you can see all the transcripts that were written during the trial. The saddest ones were witnesses that went through the Holocaust. Almost every one of them had a number tattoed on their hands. Some of the leaders of the Allied Alliance like British prime minister Churchill and the Soviet Union's Gorbachov wanted to kill them all but International Military Court wanted to judge all of them to leave the written trail so that war like this never happens again.
All of that can be seen in this museum which still works as the court of justice in the town of Nuremberg. This place is worth seeing for many reasons because it is proof that horrible things that happen from 1939 to 1945.
Location: Bärenschanzstraße 72, 90429 Nürnberg, Germany
Phone number: +49 911 23128614
Open Hours: Closed during Covid-19 pandemic

To conclude, if you are wondering how to change your settings and things that are all around you when all things get back to normal, Nuremberg is the city to see. Every time of the year has its special things to see and do if you decide to spend a long weekend or maybe the whole holiday, go to Nuremberg, you won't regret it.
Things to do in Nuremberg – ( IT: norimberga cosa vedere )