Nuremberg Christmas market
Nuremberg Christmas market (Christkindlesmarkt)
Nuremberg Christmas Market 2022: November 25 to December 24
| CHRISTMAS MARKET – OPENING HOURS | 2022 |
| --- | --- |
| Opening on November, 25 | 10 am to 9 pm |
| Monday to Sunday | 10 am to 9 pm |
| Christmas Eve on December, 24 | 10 am to 2 pm |
Where are the markets?
The largest market is in the Hauptmarkt, the city's main square
What is the Christmas Angel?
Christmas Angel is a type of Christmas decoration. He's a symbol of the market and of Christmas itself
Do I need to book in advance to visit the Christmas Market?
It is recommended booking tours and hotel ahead of time to secure your spot.
What date do Christmas markett start in Nuremberg?
The Nuremberg Christmas market starts on the Friday before the first Advent Sunday and ends on Christmas Eve. 
2022 : The opening ceremony will take place on 25 November at 05:30 PM
Nuremberg's Christmas market is certainly one of the most beautiful Christmas markets in Germany and in Europe. It is an old tradition, going back hundreds of years. Every year during a month this German Christmas market gathers hundreds of thousands of tourists from all over the world. The famous Christmas Market of Nuremberg is a must for every Christmas tourist.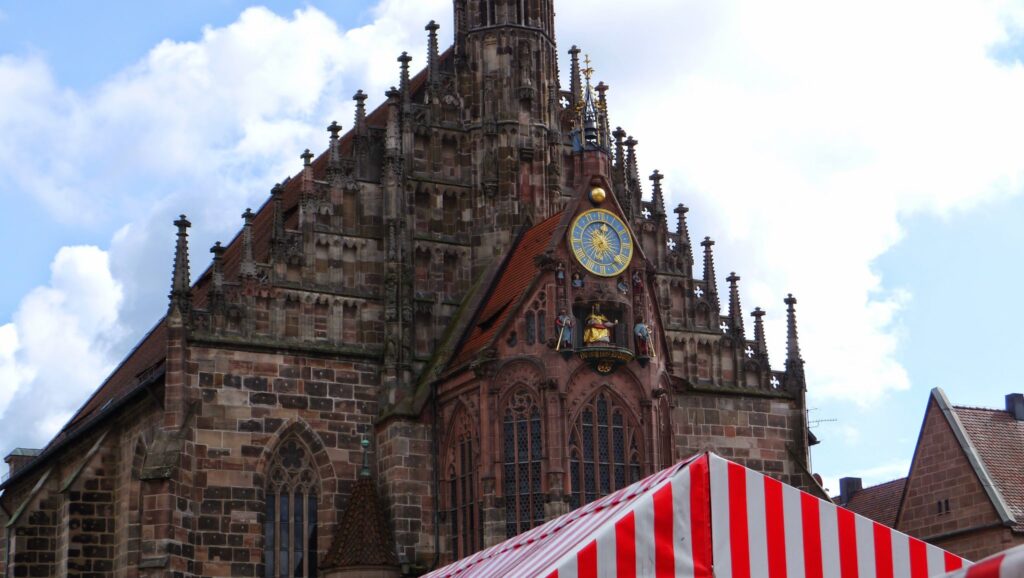 What is the perfect Christmas holiday? To enjoy the moment in #Nuremberg and forget about your worries for a while. Whether strolling through the Christmas Market, enjoying medieval atmosphere in the Old Town or shopping individual gifts for your friends and family. If you are interested in culture, a visit to one of the many museums in town is a must. These are memories that will last a lifetime! [more…] Nuremberg Christmas Market – christkindlesmarkt.de
From a window of the Church of Our Lady ( Frauenkirche ) , an angel with flowing blond curls, a crown, and golden wings, appears above the Nuremberg market and proclaims: "the Christkind invites you to her market, and whoever comes is welcome!"
Tradition as old as 400 years, gets together over 2.000.000 people every single year around the Christmas. Instead of Santa Claus, there is a Christmas angel, and by their tradition, she is the one that opens and welcomes all the guests, but not only that, she has so much to do around these days. But first, a bit of history.
Nuremberg Christmas market : Nürnberg
Tradition says that a new Angel is chosen every 2 years. It's always a young pretty lady, with a smile on her face, always ready to be with children and to try to listen to them all. She wears the same traditional gown, but, because the costume is made out of real gold, the stars on the gown are changed every 2 years.
When she opens the Nuremberg Christmas market, then she reads to the children and talks to them almost the whole day, gathering their Christmas wishlists, trying to promise them all to get what they want. She has her own charette with horses so that everyone can see her, no matter how long you stay, if you came here for Christmas activities, you'll see her for sure.
Looking from above, from The Church of Our Lady, where the angels welcome you, the view is something else. Except for a lot of people down below the terrace, you can see red and white stripes which are covering the whole square, and streets around it.
Having in mind that so many people are coming, it's not too much when you hear that there is about 180 stand that sells everything that is connected to the Christmas and this great town! Except that, there are international stands from Poland, China, Scandinavian countries, and also from other parts of the country.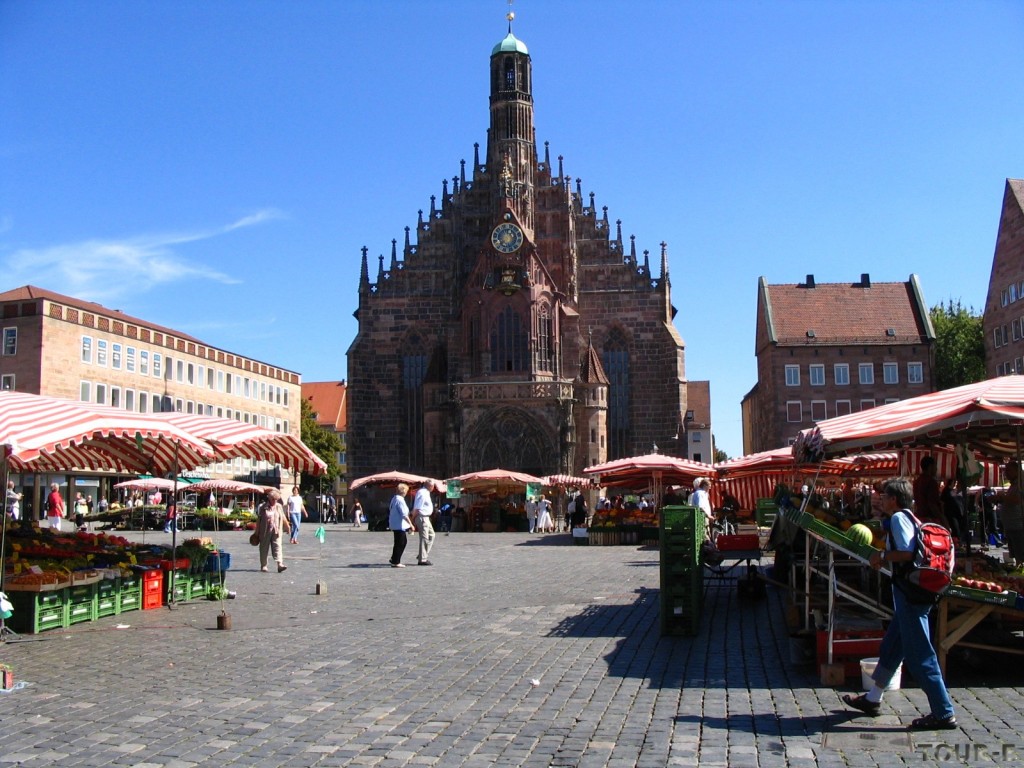 If by now you are not convinced, remember that this is the place to be for Christmas, and there are more than one reason why should you?
First, the smells, where everything smells like roasting almonds, gingerbread cookies in all shapes and sizes, bratwurst ( the Geman sausage ), and the traditionally prepared mulled wine, with its seasonings, ads a funny note to the whole story. The wine is cooked with cider, honey, cinnamon, star anise, and orange peel…and all that in one place, and in one hot mug.
Their gingerbread cookies are famous by having a lot of nuts in them, and that separates those cookies, from the other in different parts of the country.
The first one of the Christmas market was held about year 1628., from which there is a Christmas box in the National Museum of Nuremberg, and in it is still 12 silk skeins ( a length of thread, yarn or silk in this case, loosely coiled and knotted ), so at that time, it was celebrated.
Besides the decorations for the Christmas tree, there are so many things to find here, on the marketplace, and stuff to do that you have to go and see for yourself. For example, there are whole day children care, where kids can do all kind of stuff, from making things out of the glass to making cookies with elders to dipping candles into the barrels with colour, thus painting the candles themselves.
Beside those children, who got more time, can stay and make small houses, and decorating them, in Christmas children bakery, there is also the children post office, and a puppet theatre. Everything a child may need in this jungle of glitter.
The things that must be mentioned about this great gathering of people is that the Nuremberg's Chrismas Market was moved around several times, from the Insel Schütt which is a small island on the river Pegnitz, to the Plato of the Museum of Applied Arts, then there was a movement to the Transport Museum, which had enough space in those days to get all people around.
There is a sentence from St. Sebald Church which says that Christmas sermon was cancelled in 1616. because everyone was on the Christmas Marketplace, so they had to change the date of the beginning of the Christmas Market. Today, the whole thing starts on the 4.th of December, so everyone can enjoy both Christmas Market and Church Sermon for the Christmas Eve.
From 1545. they got after the reformation of the Church, for the children of Nuremberg are having their presents from "Holy Christkind".
In 1933. The Nuremberg Christmas Market was back on the main square, in front of the Church Of Our Lady, and since then its still at the same place.
Everything from ornaments, for the tree, to the Christmas Angel made by hand in gold leaves, can make a great present for you or for someone who you love, you'll find just about everything here for your comfy stay there until you get back, you'll feel like living in a fairytale.
If you like Christmas and enjoy festivities that are great, marry, shiny and traditional, you won't regret deciding the City of Nuremberg for the Christmas holiday!
Hotels near Nuremberg Christmas market – Christkindlesmarkt