Nuremberg Gingerbread Cookies
Nuremberg Christmas Market 2022 – opening hours
The Nuremberg Gingerbread Cookie ( die Nürnberger Lebkuchen ) was first made in the city of Nuremberg, Germany during the 14th century. The original recipe called for ground almonds, raisins, candied orange peel, cinnamon, cloves, nutmeg, ginger, and lemon zest. They are world famous and for most people inextricably linked to Christmas – the Nuremberg gingerbread.
The word itself comes from two or even three words put together. First comes from the Latin "libum" which was flat bread, another is from the German word Laib meaning loaf, and another Greman word "lebbe" which is used to describe something very sweet.
Another possibility is that it comes from Leb-Honig which is an old term for crystallized honey taken directly from the bee hive and it can not be used for eating, but rather just for cooking and baking. And Kuchen is a name for cake, so it seems like all of them are true, at least for this sweet from Nuremberg.
From the original way this sweet cookie is made, there is now a variety of them. They come as low-fat, in other recipes, there are gluten-free ones, covered with chocolate, etc…
However, the Nuremberg Gingerbread Cookies are most common around Christmas time, and it's the most popular Nuremberg Christmas Market, where everyone has their own variation on how to make it best, to how to decorate them in the traditional, or more in the way that today's buyer wants them to look and taste like.
The most common ones have the Oblaten or the thin wafers on the bottom, but if you want them to be gluten-free, the main recipe doesn't have a wafer at the bottom.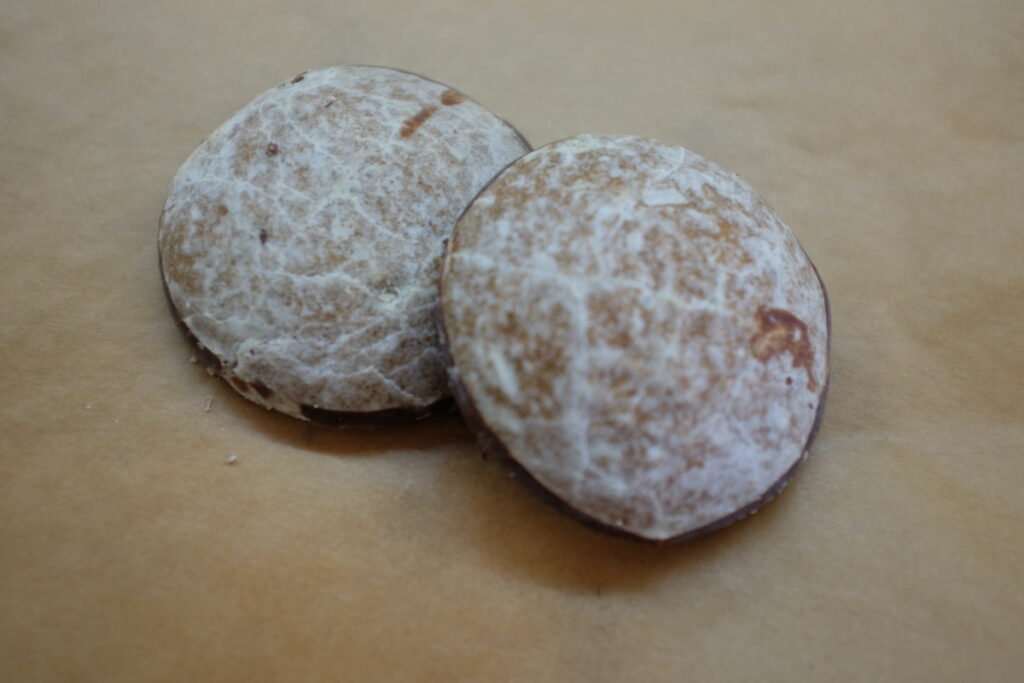 They are made out of beaten eggs, sugar, and vanilla. Add the nuts, lemon juice and the rest of the spices are anything you would like in a Lebkuchen, leave it in the fridge for 24 hours and place it on a tray with a little spoon and you have made the cookies. It may be with a wafer on the bottom or without, it is there for cookies to be caught or packed easier, and it is eatable.
Decoration of a Nuremberg Gingerbread cookies
You can decorate these cookies with sprinkles, colored sugar, or even edible glitter! If you want to make them extra special, try adding some dried fruit, nuts, or chocolate chips.
Those cookies are also called Nuremberg gingerbread and you can see and try them in any shape or form. For those kids who are willing to learn how to bake with their moms, this is the cookie to start with. They are mostly round in shape, but they don't necessarily need to be. You can find them at Nuremberg Christmas Market in the shape of the heart or like a small Christmas tree.
They also can have a shape of a snowflake, little flowers, squared ones, or even hectagon like.
The most common decoration on cookies is a little bit of dark chocolate, and walnuts or almond placed in some order. That is the most common.
But, with new ages came new toppings, so now they can be found covered in white chocolate, with plane sugar and water which will give them a special glow, they can be small as the palm of a hand or as big as one's head.
Also, they come in every color in the world, but the most famous are still those with letters or inscriptions on the cookie. Heart-shaped ones have the brightest colors, have red, white, or even golden edges, and usually white letters that may say "Ich Liebe Dich" which is "I love you", or "Du ekelst mich am" loosely translated as "you disgust me" or other funny, or serious, but always fun to eat.
Add a small eatable heart or some small colored sugar balls on top, and you can even decorate the Christmas tree with them. Choose Nuremberg this Christmas, and the smell of fresh cookies will lead you to them.
Nuremberg gingerbread recipe